Class 2-A
Class Rank

First

Homeroom Teacher
Class Representative
Class Ambassador
Known Members
List of Classes
Class 2-A (also known as Class A) is the best class and has the best classroom facilities in Fumizuki Academy.
Facility and Location
[
]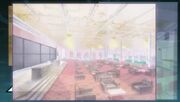 They have the best equipment and facilities, e.g. class A gets a larger room, a wall-sized plasma-screen instead of a blackboard, a fancy glass ceiling, high-class drawings hung on the walls, ornamental plants, and interior that makes it look like a 5-star hotel. And to top it, everyone gets a laptop, personal air-conditioner, fridge, adjustable chairs, etc. It basically is a 5-star hotel, or at least has the accommodation of one.
Students and Staff
[
]
Class A consists of 24 males and 26 females. The top 10 students of class A are said to have such good marks, and Shoukanjuu so strong that they are on a whole league of their own compared to even the other class A students. Basically, this means that they are more intelligent than the other Class A students.
Class A basically treats the Class 2-F students as trash as they are so stupid. They even challenged them because they were making a ruckus at the start of the semester. Their class representative is Shouko Kirishima while their class ambassador is Yuuko Kinoshita. Toshimitsu Kubo, Miho Satou and Aiko Kudou are also in this class. Their Homeroom Teacher is Youko Takahashi, the head teacher of the 2nd year teachers and staff.
EBS Strategy
[
]
[

]